 "Are those your legs,or are you ridin' a chicken?"
Staring down the barrell of senior citizenship,one realizes that perhaps Father Time has an itchy finger on the trigger,and those lofty dreams that have long been the object of procrastination had best be put to paper before, in a weakened state, being cut down by the bird flu or the spuckets.Hence,the offering that you see here.This book is meant to be funny,but that,assuming that you purchase it,remains to be seen.A few of you might take offense here and there, and to you I apologize in advance, and offer best wishes for your continued journey into adulthood.For those of you not versed in the rich oral traditions of southern Appalachia, the dialogue might take some phonetic soundings on your part.I have always loved regional speak,and feel that to deny your accent is to deny your heritage to some degree.This book is written the way that I, and those that I grew up with talk.If you find that offensive,well, Yall' can kiss my ass. JMB
James Michael Bruce was born and raised in Anniston,and later Sand Mountain Alabama,amongst the charismatic preachers,bootleggers,and chicken fighters that were the inspiration for the characters and locale of this offering.A lyricist and wandering drummist,most recently with W.R.(Bud)Thornton and The Boxmasters,and Unknown Hinson,The King of Country Western Troubadours,he has traveled and performed all over North America,done a little tv and radio.Moved to try his hand at full length fiction by an eerily prophetic statement written on the bathroom wall in a recording studio in Muscle Shoals;"Here I sit broken hearted,wrote a hit that never charted." He lives in Roswell, Georgia with his lovely wife Joani,and a slightly neurotic dog named Shawty.The children,Whitney Elizabeth, James Mitchell, Evan Scott,and step-daughter Lacy Aja are all grown now,with adventures of their own.His mother Polly,and Joani's parents Cois and Maybell Sanders live on Sand Mountain, Alabama.(At least till this book was published.)
Synopsis
Conway Twitty Freeman was an impressionable young boy who thought he was a chicken.Doil Pettyjohn was a donkey ball promotin' bootlegger and monkey ranch showman who wanted to adopt him.The Reverend 'Booger' Dalrymple,a crusading charlatan,wanted to build a television ministry around him.His alleged father,a notorious but highly successful chicken fighter,in cahoots with the preacher's voluptuous ex-wife,wanted to abduct him,and a sexually confused hollywood actress wanted to film it all.Somebody was bound to be disappointed.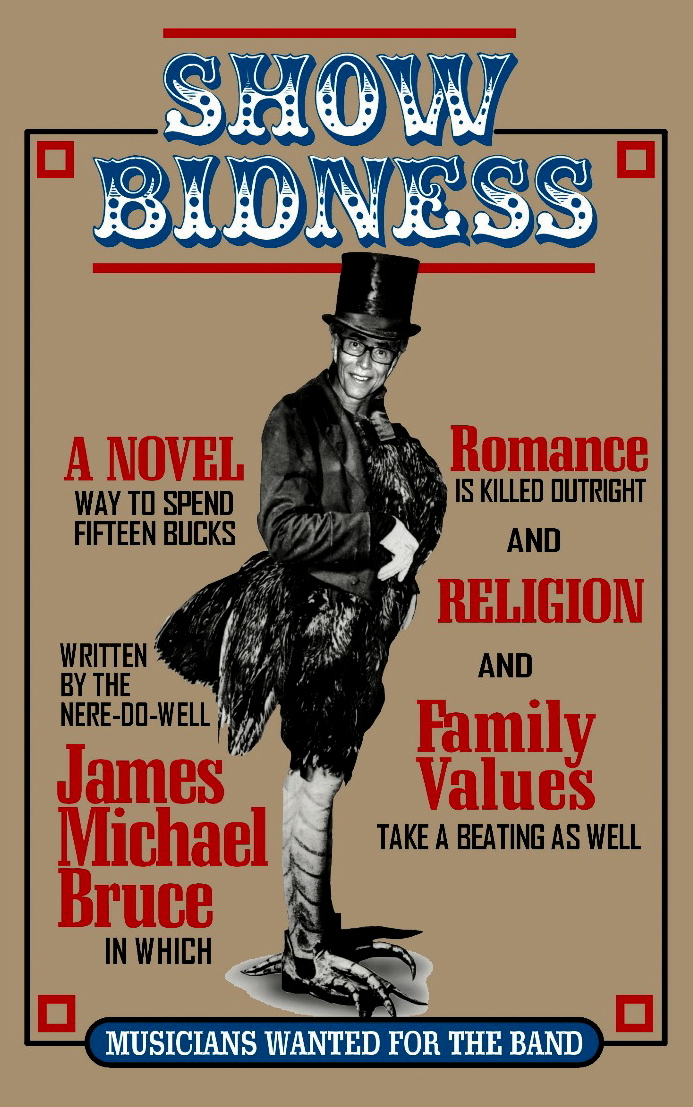 contact James@JamesMichaelBruce.com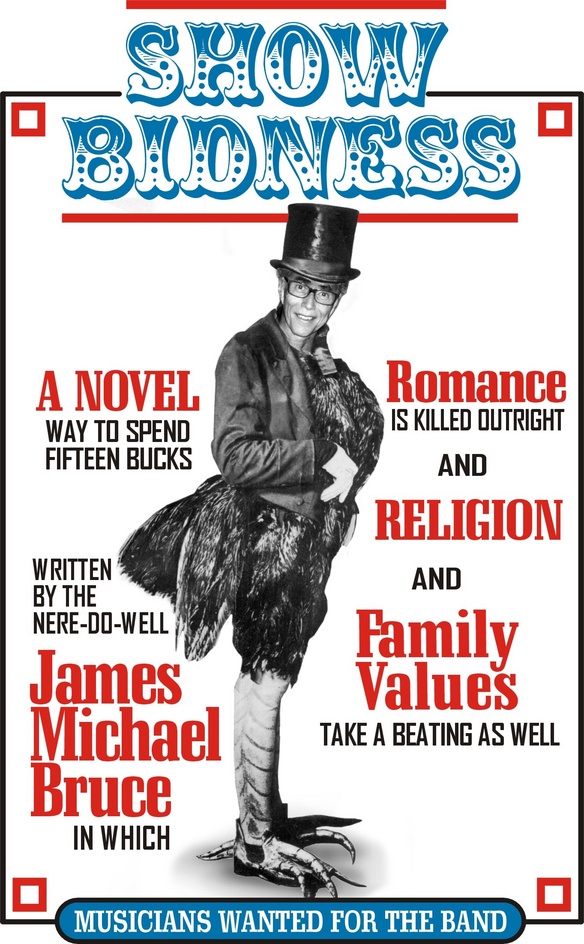 Click on this link
to
BUY
Show
Bidness!

also available at Amazon.com, BarnesandNoble.com, and other fine online retailers.